Beau Pets Gentle Leader Head Collar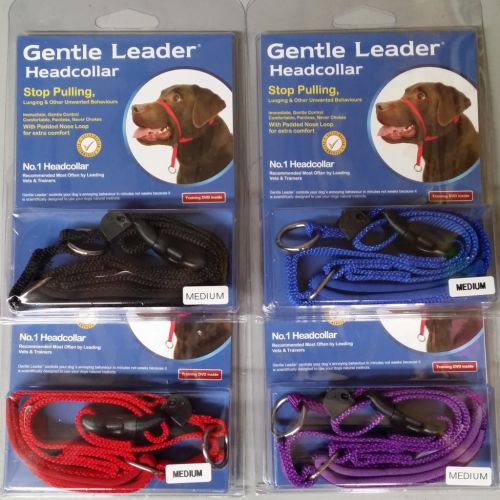 SIZING FOR YOUR DOG Choosing the correct size of the Gentle Leader Headcollar for your dog is simple. All you need to know is the approximate weight of your dog. The only exception is that certain breeds with specifically large or small heads may use a size other than what is listed for body weight. Please note - all sizes are adjustable to fit a variety of breeds in the specified weight range. SMALL - Fits dogs and puppies that will have an adult weight of 5-10Kgs. Includes toy breeds and small dogs with a narrow, small muzzle. Examples: Toy Poodle, Lhasa Apso, Dachshund, Bichon, small Sheltie, Pomeranian, Shih-Tzu, Basenji, Fox Terriers, Jack Russels, Beagles etc. MEDIUM - Fits dogs and puppies that will have an adult weight of 10-27 Kgs. Also includes small dogs with a broad muzzle. Examples: Cocker, Spinger, Brittany, Collie, Beagle, Airedale, Australian Shepherd, Samoyed, Norwegian Elkhound, Kelpies, Pointers, Blue Heelers, etc. LARGE - Fits larger dogs that will have an adult weight of more than 30Kgs, and some dogs under 30 Kgs with larger heads. Examples: Basset, Golden, Lab, German Shepherd, Doberman, Sharpei, Rottweiler, Mastiffa, Old English Sheepdog, Malamute, Akita, Great Dane, etc. For PUPPIES - Puppies of medium and large breeds can start at 8 to 10 weeks with a medium which they can wear until they reach 30 Kgs. Puppies of large breeds that are already over 20 Kgs should start with a large. For Short Snout Dogs - Available in Medium and Large to fit Bulldog, Boxer etc.



You are currently not logged in. Please

log in

to view pricing.



| | |
| --- | --- |
| code | product |
| GLCS-BK | Gentle Leader Head Collar SMALL 89201 - 5 to10kg narrow muzzle BLACK |
| GLCS-BL | Gentle Leader Head Collar SMALL 89201 - 5 to10kg narrow muzzle BLUE |
| GLCS-RE | Gentle Leader Head Collar SMALL 89201 - 5 to10kg narrow muzzle RED |
| GLCS-PU | Gentle Leader Head Collar SMALL 89201 - 5 to10kg narrow muzzle PURPLE |
| GLCM-BK | Gentle Leader Head Collar Medium 89202 - 10 to 27kg Broad Muzzle BLACK |
| GLCM-BL | Gentle Leader Head Collar Medium 89202 - 10 to 27kg Broad Muzzle BLUE |
| GLCM-RE | Gentle Leader Head Collar Medium 89202 - 10 to 27kg Broad Muzzle RED |
| GLCM-PU | Gentle Leader Head Collar Medium 89202 - 10 to 27kg Broad Muzzle PURPLE |
| GLCL-BK | Gentle Leader Head Collar Large 89203 - 30kg or more BLACK |
| GLCL-BL | Gentle Leader Head Collar Large 89203 - 30kg or more BLUE |
| GLCL-RE | Gentle Leader Head Collar Large 89203 - 30kg or more RED |
| GLCL-PU | Gentle Leader Head Collar Large 89203 - 30kg or more PURPLE |
| GLCEL-BK | Gentle Leader Head Collar Extra Large 89204 - 30kg or more with Broad Muzzle BLACK |
| GLCEL-BL | Gentle Leader Head Collar Extra Large 89204 - 30kg or more with Broad Muzzle BLUE |
| GLCEL-RE | Gentle Leader Head Collar Extra Large 89204 - 30kg or more with Broad Muzzle RED |
| GLCEL-PU | Gentle Leader Head Collar Extra Large 89204 - 30kg or more with Broad Muzzle PURPLE |